Welcome! ¡Bienvenidos! Bem vindo!
Recent news and updates from our chapter:
Dear Member/Colleague,
Following are a few announcements and reminders as of 08/15/21:
I hope you all are enjoying your summer! Some REMINDERS and ANNOUNCEMENTS:
1. PODCAST #4 -
Our fourth podcast is ready for publication. The title is "Lessons learned from the pandemic: implementing new skills, strategies and technology in the classroom." You will find the links to the podcast below.
We know that in some parts of the country students are returning to the classroom and in other parts like the metropolitan area, teachers are preparing to return to school in September. We hope that teachers will find it helpful. Two members of the chapter and a student of one of our members participated in the podcast. We want to thank the following podcast participants for sharing their experiences and time:
Cristina Santiago Campbell, Assistant Principal of World Languages at Brooklyn Technical High School
Marlene Moussa, World Language Teacher of Walter Panas High School
Logan Grotsky - June 2021 graduate of The High School of American Studies, Bronx, NY.
We would also like to thank the chapter's Podcast Committee for their time and recommendations:
Dr. Alan Hartman - Director of World Languages at Mercy College. Alan serves as the host of the podcast.
Ms. Mara-Lee Bierman - Professor Emerita of Rockland Community College.
Dr. Liliana Soto-Fernández - Professor Emerita of John Jay College of Criminal Justice, NYC
Ms. Rosanny Genao - Teacher of Spanish at the High School of American Studies, Bronx, NY.
2. SPANISH TEACHER NEEDED: See below information in order to apply for this position.
Job Type:
Full Time (10 Month)
Application Deadline:
08/10/2021
The Wappingers Central School District is seeking a certified 7-12 Spanish teacher. Candidates should be highly collaborative and possess knowledge of the ACTFL 5 C's as well as best practices for teaching in the target language.
This is a full time, tenure-track high school position with an effective start date on or about September 1, 2021. Only those candidates holding valid NYSed certification in Spanish 7-12 will be considered. Candidates must be prepared to provide additional documents to complete a candidate folder, including college/university transcripts, proof of valid certification and three letters of recommendation bearing the writer's personal signature.
The WCSD offers competitive salaries, comprehensive benefits, professional development and mentor support.
Thank you so much for your help!
Nancy Beiner
John Jay Senior High School
Spanish Teacher
Teacher-in-charge, Languages Other Than English
(845) 897-6700 ext. 30016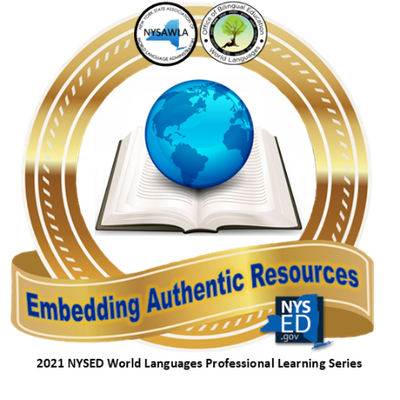 3. ASSISTANCE TO PROFESSIONALS WHO HAVE COME FROM ABROAD - New York State has opened a new office to assist professionals (lawyers, architects, pharmacists, nurses, etc.) who have come from other countries and would like assistance to continue with their career here in New York. As many of you know, it's difficult to get the ball rolling. Well, this office will assign an individual to help them. The office is entitled The Office of New Americans. The website is Newamericans.ny.gov or call 800-566-7636.
4. RECENTLY PUBLISHED BOOKS - Are you still interested in doing some reading for those beach/pool visits? There are two books that were recently published that may interest you:
- "Educándonos Educamos" by our former VP, María del Pilar García. The book is available on Amazon. Profits from the book will be going to help the less fortunate in Colombia.
- "SalviYorkers" by Carmen Molina Tamacas. You may remember that it was first published in January 2020. Well, the book is in its 2nd edition. The book originally covered the contributions of salvadoreños going back 90 years here in New York. Based on further investigation she was able to go back 100 years, made additions to the original publication and edited some parts. If you know little or nothing about salvadoreños, this is a must read. The information will help you relate to your Salvadorean students and certainly would be a good addition to your school's library. They can read about the accomplishments of their people going back a 100 years. The book can be found on Amazon. Right now it's only available in Spanish. The English version is expected to be available soon.
Be well,
Bernie
As always, we wish you good health and peace during these turbulent times. Enjoy the rest of your summer and a great entrance to the new school year!
Sincerely
Bernard A. López
President of the AATSP Metro NY Chapter
The American Association of Teachers of Spanish and Portuguese: NY Metropolitan